Our elders are the backbone of every community. They hold the knowledge, culture and heartbeat of villages and communities, passing their legacies onto the next generation for years to come.
Which is why, when our elders suffer and lose hope, our entire community suffers with them. Yet, when elders are supported and given a glimmer of hope, entire communities rise up.
We know that there are millions of elders silently suffering with hunger, weakness and neglect throughout India. These women and men are now left to suffer alone.
It's sometimes easy to get lost in the numbers. Yet, each of those numbers represents a life, a story, a face and they deserve to be remembered and supported. They deserve dignity.
Through the Tripura Foundation, we can restore Srimati's dignity and give her hope that tomorrow is worth living for. We can show her that the world is full of people who care about her.
Our HoPE for the Elderly Program: Tripura Foundation reaches elders right in their community – going door to door to provide them with food, clothing, medical care and basic necessities. Hope delivered right to their door.
For just $40 a month, a woman like Srimati will be able to share her stories, enjoy the company of her friends all while receiving nutritious food, medicine and home support. You can be one of those people who supports women like Srimati.
Give a Recurring Donation Here.
Much like Srimati, Adirammiah was an elder suffering in silence. He was hungry and lacked the basic essentials to live his life clean and nourished.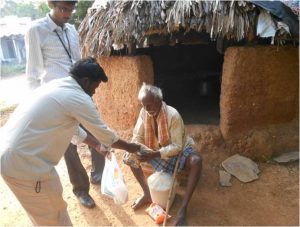 Thanks to the generous support of a donor, Adirammiah received:
rice,
toor dal,
sunflower oil,
spices,
washing soap,
shampoo,
tooth powder,
coconut oil,
cough syrup, and
pain relieving gel.
While someone may look at these items as simple staples, our help provided for a life-changing circumstances for Adirammiah. His pride is restored, alongside of his dignity. All because someone cared enough to remind Adirammiah that he mattered.
We know the need is great, which is why we are growing our program.
We want to be able to reach at least 85 elders every month and change their life just like we have for Adirammiah.
For just $40 a month, you could change a life by sponsoring someone like Srimati.
Click here to head straight to our donation page to get started.
In order to reach 85 elders every month, we need to raise $40,800 this year for our HoPE for the Elderly program.
Will you help us not only meet this goal, but exceed it?
Their lives, their dignity, their hope- all can change because of you. By restoring their hope, we ensure the backbones of our communities remain strong for the next generation.
Together, we can remind our elders that they matter.
We appreciate your ongoing support.
Thank you.