Let's End World Hunger with Food for All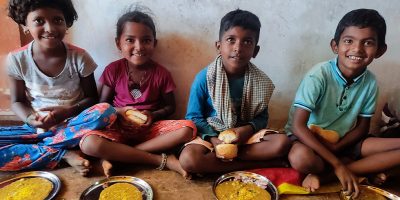 I feel so enormously grateful that I have the financial ability to make a donation to Tripura and the Food For All...
Feed
We feed at least 4,500 hungry children and elderly each month.  Nearly 15 million meals fed to date.
Educate
We have educated over 150,000 underprivileged children in over 1,125 schools in 4 countries with revolutionary Phonemic Intelligence technology.
Shelter
We improve living conditions for hundreds of abandoned elders with nowhere to go and have built more than 30 homes.
Support
We provide basic necessities for over 4,000 impoverished children and their families to live with dignity each year.
Empower
We inculcate compassionate life-skills into our children as the future leaders of tomorrow.
Hope
We give the hope of a new destiny to those who were previously forgotten,
Our Students Practice Phonemic Intelligence
United Nations ECOSOC Accreditation
Tripura Foundation is a non-governmental organization in consultative status with the Economic and Social Council (ECOSOC) since 2015. See our consultative status here.
United States
Tripura Foundation in the United States.
India
Tripura Foundation in India.
A Word of Hope from India
"I sincerely want to thank our sponsors and Tripura Foundation for giving children like us a hopeful childhood so that we can have a brighter future with all of your support. I would also like to thank them for providing us with the evening snacks as they are a major source of healthy food for us."
Bhavani –Hope Learning Center beneficiary.
With your help, we can help more children like Bhavani. Click the button below to make a donation now.
Sponsor a Hope Learning Center
Want to transform communities and the lives of 40 children?
For $350 p/mo or $4,200 a year, you can sponsor your own Hope Learning Center.