The Elderly are especially hard hit by the effects of impoverished communities. When even strong young adults must work long hours to scrape by, there is often no one left able to help disabled or invalid elders. It would be challenging to alleviate suffering among this entire group, but there must be a starting point.
At Tripura Foundation, HoPE Center children (with financial support from sponsors) help meet the monthly grooming and nutritional needs of village elders. In addition, they sometimes provide special items to help keep these lovely beings wrapped in warmth and security, like during a recent blanket drive.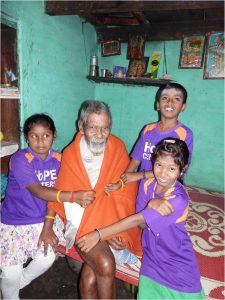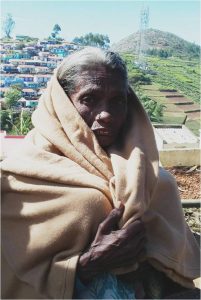 By doing this, our HoPE students learned the blessings and satisfaction that come from knowing that they helped make someone else's life a little bit better. With greater awareness of elder poverty in these new generations, perhaps ways will be found to provide for those left behind by struggling families and joblessness.
By extending the reach of HoPE Centers out into the communities we serve, we begin to alleviate generational suffering. If you are able, please partner with HoPE for the Elderly by sponsoring an honorable elderly citizen, so s/he may live in dignity rather than squalor and neglect.