Hello everyone!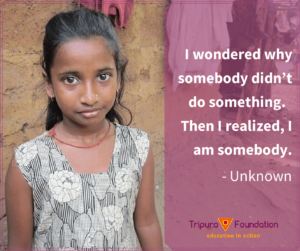 I'm Chandra Sullivan, and I've been given the opportunity to write regular blog posts for the HoPE Post blog, alongside managing the Tripura Foundation Builds HoPE and Pillai Center Facebook pages.  My aim in maintaining the HoPE Post blog is to make it lively, informative, uplifting, and inspiring.
Tripura Foundation's current donations for the year have yet to cover its costs of operation.  And while we're still serving those in need in the face of dwindling funds, we really need your help to ensure we raise enough funds to cover our costs and, most importantly, are able to continue serving those in greatest need around the globe.
Mohini (Elaine) Kueper, Global Director of Tripura Foundation USA, recently celebrated her birthday, during which she made a personal request: a plea for help in raising the funds we desperately need to continue making a difference in the lives of those less fortunate.
She says, "Like any mother, I cannot turn my back on my children in great need. Before the end of 2014, we need to raise $100,000.  For my birthday, I'm asking you to contribute anything you can to help my children. Even $10 feeds and educates a child for a month." 
Every dollar helps.  Every dollar counts. 
"I'm also asking you to create your own mini-fundraiser for your birthday, the holiday season, or any celebration where you can rally support from your family and friends.  We've found a way to do most of the work for you."
How to become a HoPE Miracle Maker in four EASY steps:
Visit the HoPE Miracle Makers website.
Choose an occasion. Whether it's your birthday, a special celebration, or just because, decide what event you'd like to turn into a miracle-making fundraiser.
Give us the details. We'll create a customized fundraiser just for you, including your very own webpage, email templates, social media sharing ideas, plus an invitation to join our HoPE Miracle Maker Facebook group, where you can get support, share ideas, and receive encouragement from other HoPE Miracle Makers.
One hundred percent of the money you raise will go directly to educating children, feeding the hungry, and providing entrepreneurial training to out-of-work women.
With the holiday season arriving soon, becoming a HoPE Miracle Maker is a beautifully unique way to celebrate a little differently this year, to bring to light the many who do without, to brighten the lives of those less fortunate, and to bring that much more joy to an already joyous season.  Join us and become a HoPE Miracle Maker today!!
With love, light and HoPE,
Chandra Sullivan
Tripura Foundation Team Member