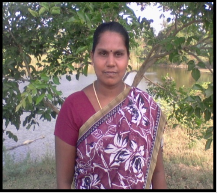 Hemalatha of Velur, India, is a widow and mother of two children.
When Hemalatha married Sugumar, she was barely 22 years of age.  Her husband was working as a daily wager in an industrial motor manufacturing company. After six months of marriage, her husband became ill.  When she took him to the hospital, she received the shock of her life. The doctors diagnosed him with chronic pulmonary disorder. They informed her that her husband's lung was beyond the repairable stage and there was nothing they could do to heal him.
To add to their misfortune, Sugumar was soon terminated from work due to his illness. Life became even harder for the couple, as they were expecting their first child.  Hemalatha delivered a baby boy while her husband's health steadily degenerated.
For a period of time they were supported by her father-in-law who worked in agricultural labor.  However, the sparse income was not enough to support four people.  Hemalatha, unable to even afford formula for her newborn child, nearly lost all hope.
When the local village school headmaster came to know about Hemalatha's plight, he recommended her to their local Tripura Foundation coordinator and requested that she be given a job to help her sustain herself and her family.
Tripura provided HoPE for Hemalatha by giving her a teacher's assistant position along with Rs.1,500 as a monthly salary.  During her first day on the job, she said:
"I am so grateful to Babaji and the sponsors for giving me a job that is near my home in the same village."
The monthly salary was essential for the livelihood of her family, as she was able to feed her baby and afford 10 days of medical supplies for her husband each month.
After a year of sincere dedication to her job, Tripura Foundation promoted her to a teaching position and increased her monthly salary to Rs.2,500, which enabled her to afford 20 days of medical supplies for her husband each month. When she became pregnant for a second time, she was still able to take proper care of her husband. Every day she earnestly prayed to God to save her husband. Eventually though, her husband's health became worse and he became bedridden.
Even while enduring her many problems, she never asked for leave from work.  She came to the learning center every day and taught the children with great dedication.  The children loved her so much, and she loved them. She said,
"These children gave me the strength to endure my problems."
As her husband's health condition became critical, she borrowed Rs.10,000 and withdrew Rs.7,000 from the bank, from her government-provided child welfare money, and admitted her husband to the hospital in a last attempt to save his life.
Unfortunately, it was too late.  The very next day, her husband breathed his last.  Needless to say, she was heartbroken. She was unsuccessful in saving her husband's life, and she had also lost all the money that she had borrowed.
These sufferings were not enough to weaken her completely though.  She not only came out of her sorrow, but at the same time she also showed the world that determination and dedication will help a person overcome all odds.
Now, a year and a half after her husband's death, she is determined to further her studies and continue taking care of her two children and her in-laws with the help and support of Tripura Foundation.  Her biggest desire in life is to give her sons a good education so they can grow up to be doctors who will serve those in underpriviliged circumstances.
She is grateful to Tripura Foundation and her sponsors for supporting her with a monthly ration that helps her feed her entire family. She told us that as a widow, she would have to face a lot of challenges from her fellow village members if she had to go out to earn her living.
With the help and support offered by Tripura Foundation, it is now entirely possible that she will accomplish her dream and continue helping those in her village who need it most.
With YOUR help, we can support many more women, children and families around the world.  Click here to make a donation.  Your monthly recurring donation would mean the world to someone in need.