Through our Million Meals of HoPE initiative, we've become a vital umbrella organization with a national commitment to feed the hungry. To strategically consolidate efforts, we partner with food banks that have local community reach.
One of our partner food banks, Feeding America West Michigan, shared the following story of HoPE from Brandy, one of their clients: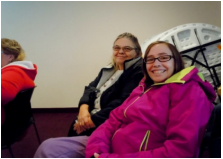 When her husband was injured and couldn't work, Brandy became the sole income-earner for her family of five.  Now in the last semester of her bachelor's degree program, she looks to the Mobile Pantry at Rockford, Michigan's American Legion (one of many food bank locations we partner with) to help her bridge the gap between finishing college and beginning her career.
Because of your kind and generous donations, Brandy isn't forced to give up on her career goals and future financial security to ensure her family can eat today.  Instead, she can continue working on finishing her degree to better the financial future of her family.
Your contribution can make a huge difference. Even a $1 donation can have a significant impact on humanity.  Commit to making a monthly donation to Tripura Foundation to help more people like Brandy build their own bridge to a better future.  Click the Donate Now button below.