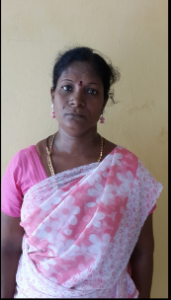 Nagajothi grew up as one of four children in a family that struggled each day to survive.  As the youngest child, Nagajothi was bought up with great love and care by her family.  She studied more than her siblings and made it to the 12th grade.
Yet, by the time Nagajothi reached her late teens, survival became the family priority over education.
Nagajothi's brother watched as she slowly sank into depression while home, and recommended that she join a tailoring class.
So in 1993, she did.  Nagajothi began to like tailoring and wanted to continue learning.  However, the course that she attended was just 30 days and only covered the basics. Unable to afford to learn from any other private sources, Nagajothi was forced to give up.
In 1996, she was married off to a young, supportive man, who helped her join a 60-day tailoring course. Happy with that, Nagajothi continued where she had left off and learned more.  Unfortunately, after the tailoring course was through, she had a hip operation which left her bedridden for four months.
She says, "I finally understood the pain of being bed ridden. It hurt being in one position so long. When I was finally able to walk, I had to use a walking stick, and each step I took gave me unbearable pain in the lungs."
On a much happier note, Nagajothi was blessed with a baby boy soon after she recovered.  She now has three children, two sons and a daughter, whom she adores.  She says, "They are the best of God's gift to me. I absolutely adore them. They are the happiness of my life. Not only are they my children, they are my best friends who advise and support me through difficult times."
Nagajothi went on to learn many new techniques in tailoring and started training women in her neighborhood. This gave them hope and strength that they can create beautiful dresses and help sustain their families.  Around this time, Tripura Foundation asked her to become one of our tailoring teachers.
Nagajothi says, "I was more than glad to help and took the offer immediately, because I was going through a rough phase and this opportunity gave me hope of better survival and a chance to prove myself. My dream job has now come true and I am finally happy. It gives me great pleasure teaching young women. It gives us confidence and a means to earn a living through tailoring."
Help us here at Tripura Foundation give confidence and HoPE to more women like Nagajothi and those she teaches.  Click the 'Donate Now' button below to make your monthly contribution.  Thank you.