It was recently World Forestry Day! In March, children at our HoPE Learning Centers participated in activities that demonstrated the importance of environmental stewardship. Rather than write about how each zone chose to participate in its own unique way, we will let these beautiful photos do the talking!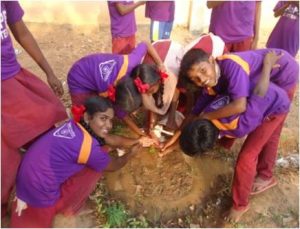 Forest rangers gave speeches and distributed free tree saplings for students in 13 HoPE Learning Centers in the Gummidipoondi Zone (including these bright children from Kannanbakkam) to plant in barren areas of their villages.
In the Coimbatore Zone, Veeriyampalayam children presented colorful rangoli depicting the theme "Forest Day "using the natural vegetables and fruit colours. They planted vegetables and were instructed to gift roots and tree saplings to their friends and relatives on their birthdays and other important functions.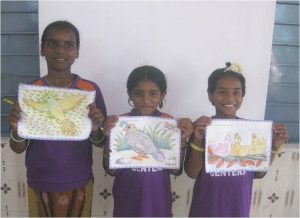 Students from the Madurai Zone created innovative logos and banners, conducted drawing competitions among children, planted trees in public places and sowed seeds.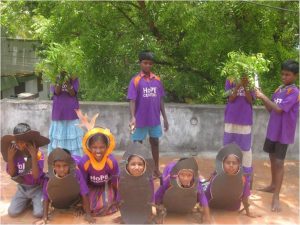 In the Trichy Zone, children made and wore colorful masks while giving inspiring speeches. They also made sure that older, already-existing greenery was taken care of, which is even more important than planting new bushes and trees.
In Goa, children created innovative containers for saplings and planted them in bare places in their communities. They also drew colorful charts depicting the importance of trees and how bad deforestation affects Mother Earth.
Children from Tiruttani Zone Centers made miniature models of forests and animals, which made it easy for the younger children to understand natural cycles.
Kumbakonam Zone children helped identify houses which were without trees, planted saplings and requested that the residents take care of them. This not only created awareness but also helped increase the green counts.
Save The Forest and Animals and Trees? Yes, please! By sponsoring three children for only $30 per month ($10 per child), you will also help ensure that the earth + her flora and fauna are safely stewarded for years to come! Click the 'Donate' button below to make your contribution today.