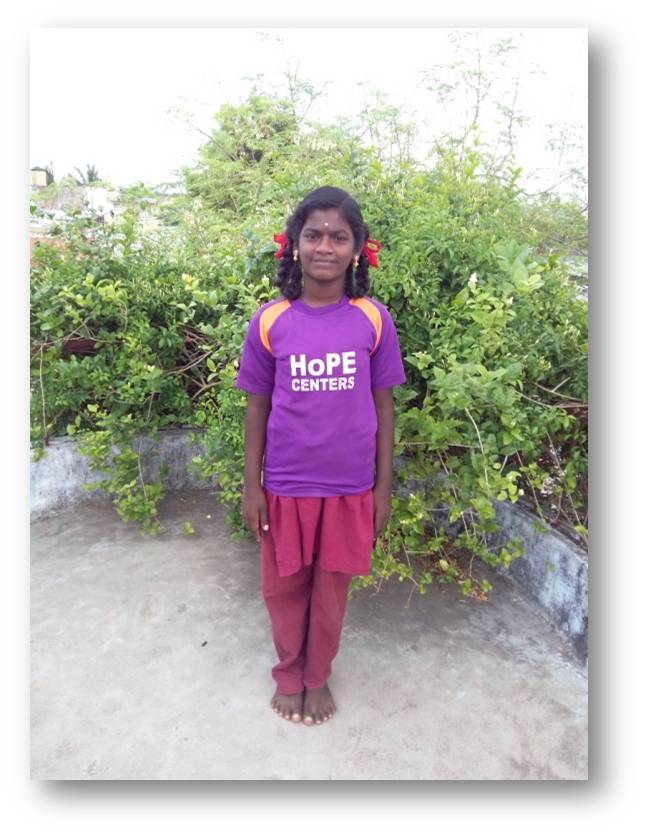 Uma was a baby in her mother's arms when her father died and she and her mother had to move to a village called Kizhavanam in search of any means of survival. They lived with Uma's grandfather, who took care of them both for a short period of time until he died and left them with only the thatched hut they lived in (which leaked during the rains and was unbearably hot during the summer).
Due to a lack of money, Uma's mother was forced to go out for work to provide for her infant daughter. Uma was cared for by neighbors. As she grew older, she deeply longed for her mother's attention and care and she was often angry that she was left behind each day. She stayed up late every night to watch her worn out mother eat leftover food scraps and get ready for bed. Uma also woke up early in the morning while her mother slept to cook breakfasts that weren't really enough for two people, before she got ready for school.
Uma says that only after she was welcomed into our HoPE Learning Center did she learn what really happened outside of her home. After spending long days being angry at her mother for leaving her home alone, she now understands why. She now helps her mother during weekends at work so that they have time together to catch up.
Uma says she feels grateful for her teachers and friends who helped her better understand her mother's situation and choices. She is also grateful for career guidance, nutritious snacks, inner confidence and a greater sense of awareness about her power to take actions and make decisions about her life.
It doesn't take much to help a special child, like Uma. Right now, only $9 a month covers the costs of HoPE Center sponsorship, tutoring, lessons, materials and daily mini meals. For only $300 a month, you can sponsor an entire HoPE Learning Center!