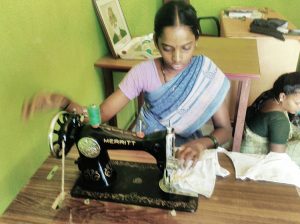 Q: What might Selvi's future look like without the intervention of a caring neighbor and Tripura Foundation's Tailoring Center program?
A: Probably quite hopeless. Even though we should never underestimate the determination of a mother to feed a hungry family, Selvi was fighting numerous disadvantages due to a lifetime of poverty without much support.
When Selvi was eight years old, her mother wasn't able to recover from the shock of her husband's early death. She struggled with depression and didn't take care of her three children. As the middle child, Selvi was cared for by an older sister but had to watch over her younger brother. Survival meant hard work and quick thinking. so young Selvi hardly had time to embrace life.
Without many options available to improve her conditions, Selvi got married and became a mother in her teens. She had no idea how to raise her two female babies. Unsupported and without education, she lost all hope of giving her daughters a brighter future than the one that she had endured.
Eventually, a neighbor took pity on Selvi's plight and stepped in to teach her basic sewing skills. For a while, Selvi earned meager wages mending the clothing of neighbors, but this was not enough to feed her children. Due to poor stitching skills, people soon realized that Selvi was not well trained and stopped giving her work.
Fortunately, Selvi heard about Tripura Foundation's tailoring program. With professional help, she is excelling in her work at home and has been earning enough to feed her hungry family.
With threads of HoPE, support and great effort, Selvi has been transformed from a terrified, young girl into a confident, mature woman. She is grateful to be able to build a secure future for her children.
This is indeed a story with a happy ending, but millions of women and children are stuck in cycles of poverty similar to Selvi's. With your support, Tripura Foundation is able to empower women like Selvi with tailoring skills so that they too can afford to feed their families. A one-time donation of $30 will go a long way to add HoPE to the future of a woman like Selvi.