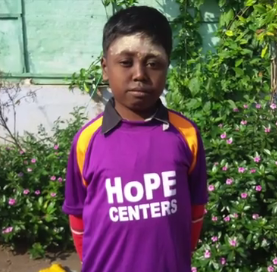 A few months ago, we shared the story of Sabreesh, one of Tripura Foundation's HoPE Learning Center students and a 2014 HoPE Hero awardee.
Sabreesh suffered from a rare blood disorder and other health issues that often left him weak, and ultimately shortened his life.  Our hearts are heavy at the news of his recent passing due to health complications.
Sabreesh was a role model of compassion in action, because he never hesitated to lend a helping hand to anyone in need.  He was nominated for a 2014 HoPE Hero Award after he saved the life of an elderly woman in his village who needed emergency medical attention.  He inspired students and teachers alike at the HoPE Learning Center he attended, and the champions of his District.
Tripura Foundation's HoPE Learning Centers give children living in poverty and adverse conditions a true sense of purpose, strength and compassion.  Sabreesh was a shining example of what can happen when a child is supported and inspired to help others no matter their own circumstances.
It is our wish that every child living in poverty be given the opportunity and blessing of time spent in one of our HoPE Learning Centers or with our Phonemic Intelligence educational program, so they have the best chance at living their fullest potential, no matter how long or short their lives may be.
To honor Sabreesh's life and legacy, help us reach out and inspire even more children who are living in adverse conditions.  You can sponsor a HoPE child for just $10 a month, or an entire HoPE Learning Center for $300 a month.  Click the Donate Now button below.