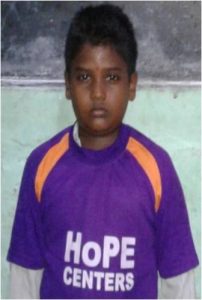 Thangaraj lives with his parents and sister. His father is a farmer and his mother is a housewife.
He was accepted into a HoPE Learning Center last year and is grateful for support from caring teachers and an opportunity to reach his goal of becoming a teacher so he can help other children end generational cycles of deep poverty and the daily hardships that come with it.
Despite this educational support and daily mini meals to stave off hunger, his family is quite poor and there is never enough for all of them to eat. He had to go to work distributing newspaper in the early morning hours before going to school to earn extra money so his family can eat. He innocently says that, "If I study well, I can help many others when I grow up."
It doesn't take much to uplift the destiny of a child like Thangaraj. Right now, only $9 a month covers the costs of HoPE Center sponsorship, tutoring, lessons, materials, themed activities, and daily mini meals for one child.  For only $300 a month, you can sponsor an entire HoPE Learning Center filled with 40 children.