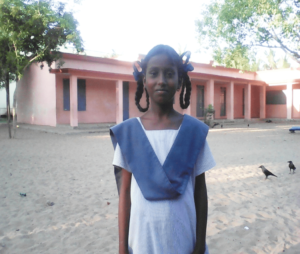 Rathisha is a typical fifth grader from Karaikalmedu. She has five best friends. She most enjoys playing volleyball and carom between studies. Her favorite color is ocean blue.
She excels in most academic subjects, especially English, but this hasn't always been the case.
When Rathisha first came to our HoPE Learning Center, she was shy, withdrawn and an average student at best. Her teacher and mentor, Ms. Revathi, noticed that she had a tough time concentrating, possibly due to hunger, a common challenge to children within our Centers.
Even though millions of children go to school hungry every day, few people realize how side effects of hunger significantly limit their social and academic abilities.
Thanks to expert tutoring and daily mini meals, Rathisha now aspires to become an English professor. Rathisha says that she is very grateful for her tutor. She also continues to enjoy her favorite food item, Biriyani, a dish of long-grain rice served with vegetables and yogurt.
Her father, Ramakannu, a deep-sea fisherman who risks his life on most days to feed his family, and her mother, Tamilselvi, a homemaker, are both very grateful for the improvements that they see in their daughter's grades and behavior. They can now work in peace, knowing that Rathisha will continue to grow and thrive.
While enjoying fine feasts with family and friends this Thanksgiving Holiday, remember that it doesn't take much to support and feed a special child like Rathisha.
Right now, only $9 a month covers the costs of HoPE Center sponsorship, tutoring, lessons, materials and daily mini meals. For only $300 a month, you can sponsor an entire HoPE Learning Center (which will cover the daily costs for 40 children)!