The Triumph of Light
In October we dressed up for Halloween and celebrated by opening our doors and giving to children. In India, families from all corners of the country gathered for Diwali – the Festival of Lights. These holidays remind us how much happiness, love and generosity fill our lives when we give to others.
As November begins, we prepare for a feast of Thanksgiving and reflect on the people who brighten up our lives each day. Honor the gifts of light and make a donation for the triumph of HoPE over the darkness of poverty.
Our GirlsTown Angels Dressed Up in Celebration!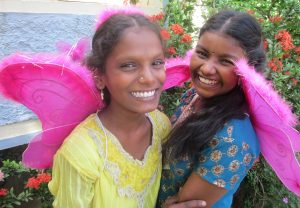 Choose to be an Angel for Others during this Season of Light!
Happiness Quotient
What are the simple things in your day that bring you joy?
Perhaps it is the delight of sipping a cup of coffee each morning?
Or it could be using your favorite smartphone apps during your commute?
Or maybe it is the simple pleasure of going to the movies?
In a time when our lives can be inundated with stress and discord in the world, these small moments of happiness are essential.  The greatest value of this joy is that it can be shared with those who need our help the most. By simply matching the cost of a small pleasure in your day, you can extend this joy to a child or family trying to overcome the perils of poverty.
$10 donation = 1 month for 1 child at a HoPE Learning Center
[That's just a small coffee a day!]
$20 donation = 1 month of nutritious snacks for 10 children
[That's a night at the movies]
$30 donation = 30 sleeping mats for the destitute or elderly
[That's a sushi lunch!]

Even Small Actions can have a Big Impact!
A Ripple Effect
Our mission to bring HoPE into communities suffering from severe poverty is made possible by extending our service to its greatest capacity while spending with the greatest efficiency.  With the help of your generous donations we have opened 6 HoPE Learning Centers with outstanding successes.  Your angel gifts are miracles in action!
Inspiration in the Classroom
Our classrooms are bright, colorful and stimulating. They are made with durable, cost-effective materials that are easy to maintain. We also put great emphasis on the quality of the teachers and select them based on experience, love and dedication to the children.
Recipe for Success
Healthy food creates the essential energy children need to do well in their work and studies. Our HoPE Learning Centers provide a daily snack of fresh and flavorful dishes prepared by caring women in the local community. This high quality meal only costs $2 per child per month.
Expanding HoPE
Looking ahead, we are excited for new opportunities of growth in 2012 with a goal to open 200 HoPE Centers across India.  Our ambitions are high because the need is so great. Please be a part of this ripple effect and send waves of HoPE into these impoverished communities.

Participate in the Success of Others!