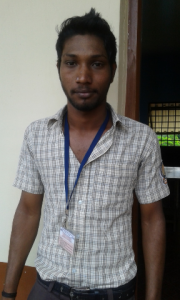 Pir used to behave in ill-mannered ways, causing trouble for his teachers in class and refusing to study or do his homework. His grades suffered and so did his sense of self worth.
That is, until he began practicing Tripura Foundation's Phonemic Intelligence (PI) technique at the HoPE Learning Center he attends.
After consistent practice with the PI technique, Pir told us, "I feel like doing good work. If I look at someone who needs help, I can't stop."
Since attending our HoPE Learning Center and practicing the PI technique, Pir has realized that he is a good person and that doing good work makes him feel better.
The core PI technique consists of a series of sounds that are vocalized and visualized in different parts of the brain and eyes.
This practice balances the right and left hemispheres, creating balanced brain functions, improved academic performances, greater emotional intelligence, reduced behavioral issues and happier, more well-adjusted kids.
Practice of the technique takes less than 10 minutes a day and can dramatically improve a child's environment for learning.