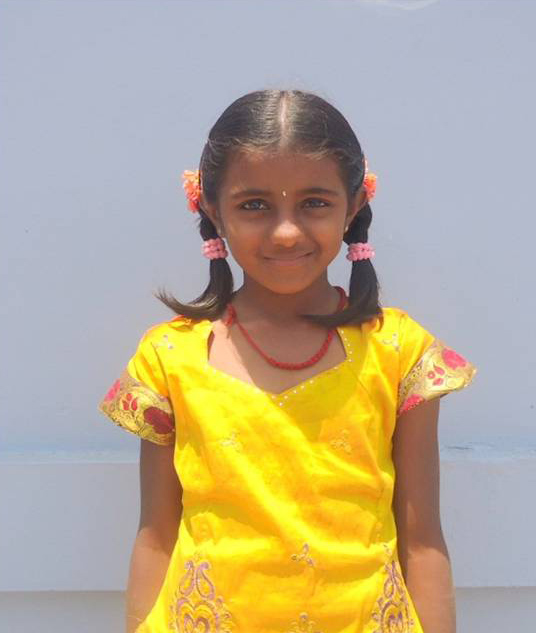 When Manjula first came to her local HoPE Learning Center less than a year ago, she was sad, silent and ignored almost everything that happened around her.
She sunk low to the ground and did not know how to laugh and play with the other children. Now, she is happy, peaceful and enjoying her life in connection with everyone around her.
When first approached, she nervously twitched. She could barely talk with a teacher about her about her favorite flowers. When asked about her family, she immediately tensed and recoiled. Yet, with gentle prompting, she shared bits and pieces of her life story.
Manjula's father was an alcoholic who came home every day to verbally abuse the entire family. As the oldest child, Manjula felt like she had to take care of her little brother and protect him from her father. She avoided contact with other children so that they wouldn't see what was going on.
Her mother worked in the neighbourhood and brought home scraps of food, but she had never tried to end this cycle of abuse because she didn't recognize that it was a cycle that she could help end.
So, HoPE Learning Center teachers stepped in. They spoke to Manjula's mother about how parental behaviors were affecting her children and gave her tools to make positive changes. Armed with knowledge, she finally took steps to correct the behaviours of her alcoholic husband.
Since then, Manjula's father stopped drinking and both parents have  been taking proper care of their children.
Manjula talks non-stop about all the beautiful things she has experienced in her life. She says that she finally feels safe and free to soar like a social butterfly among her peers. She is grateful to Tripura Foundation for the changes in her life and aims to make future children at her HoPE Learning Center proud of what she will accomplish when she grows up.
Everyone is pleased about the positive transformation of Manjula; but, for every child who we are able to help find her/his wings, there are many more who still suffer in silence. For only $9 a month, you could help completely transform the life of a precious child.