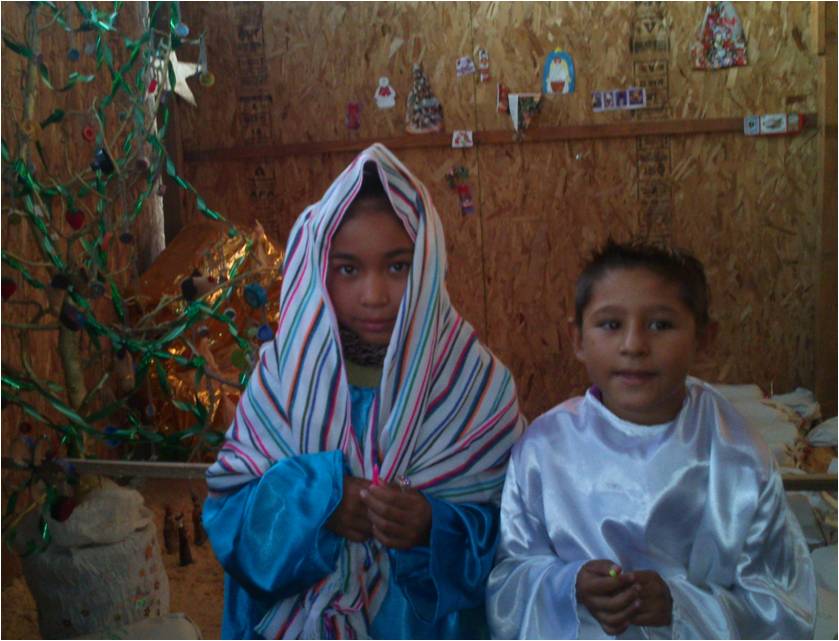 Here is a letter from our Director of operations in La Paz, Mexico:
The kids in the picture are Ariana and Osiel. They played the key roles –Virgin Mary and Saint Joseph– in our Xmas program last week, called a posada. They were selected by the group in an impeccable and organized way. This would seem impossible a few months ago, because when first coming to the HoPE Center, the children could not play or work together at all; they would just fight all the time.
Ariana and Osiel live in houses made of cardboard in a colony named La Pasión in La Paz, Mexico. Life at home is about survival: there is no electricity, running water or toilet. Their mothers are housewives and the fathers are day laborers and make very little money that is not used appropriately because of their lack of education. They hardly cover their most basic needs with sporadic help from the government and civil organizations.
Ariana is a very smart girl and wants to be a veterinarian. She has been one of the most constant students in our HoPE center because she sees it as her only chance to fulfill her dream. Otherwise, if she is lucky enough, she will finish high school to work as a cashier in a supermarket or something similar. Osiel is too shy and distant, he is in second grade and still cannot read and write. He is not interest in studying. He started coming to the center about a month ago, so he was very surprised to be chosen as Joseph for the posada. Although at first he did not want the role, the group gave him a lot of confidence and ended up enjoying it a lot. The next day he was very happy because his parents were proud of him.
The whole group enjoyed the celebration like a big family, and while playing games, they were helping each other instead of competing and making fun of the losers as they used to do at the beginning.
There were moments that it was almost impossible to hold the tears. In their sweet smiles I was seeing the little innocent children that they really are, instead of the young adults that –under their circumstances– they are forced to be.
Lucía