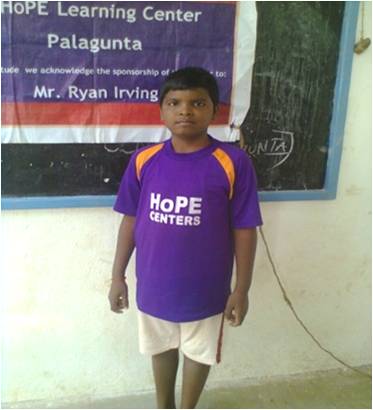 Thanks in part to Tripura Foundation sponsors and teachers, Babu is about to successfully complete his eighth-grade education this academic year.
When Babu was enrolled in our HoPE Learning Center last year, he was labelled a "dull student." His grades were far below average and he did not socialize with other kids his age.
From the first day of his enrollment, teachers made time to tutor him in Math and Social Studies while his new HoPE Center peers gave him encouragement and confidence during social events and planned activities.
Most importantly, he was given nutritious mini meals every day, which helped increase his span of concentration.
Even though millions of children go to school hungry every day, few people realize how the side effects of hunger significantly limit their social and academic abilities.  
In the case of Babu, this was proven true. Due to tutoring, social encouragement and healthy food, Babu successfully passed all five of his required classes and also made friends.
He says that he loves coming to the HoPE Learning Center and he likes eating chick peas most of all.
While enjoying fine feasts with family and friends this Thanksgiving Holiday, remember that it doesn't take much to support and feed a special child like Babu.
Right now, only $9 a month covers the costs of HoPE Center sponsorship, tutoring, lessons, materials and daily mini meals. For only $300 a month, you can sponsor an entire HoPE Learning Center (which will cover the daily costs for 40 children)!