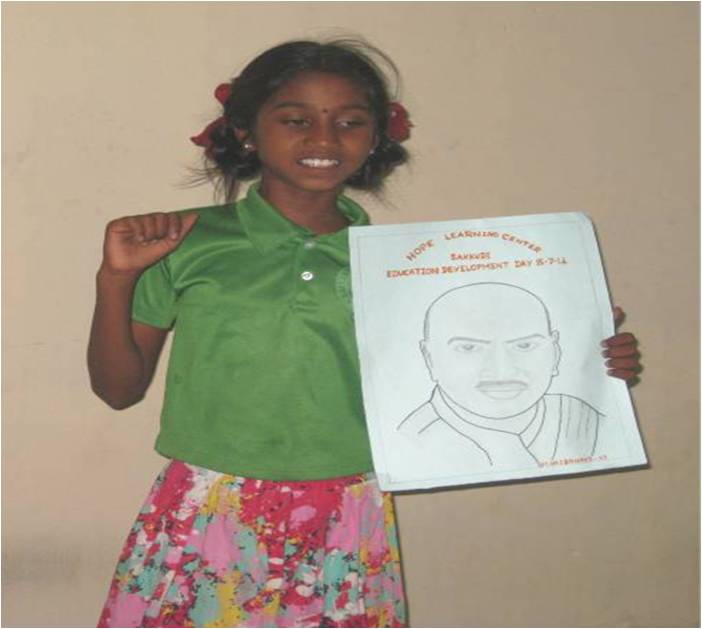 Until 7th grade, Aarthy was, at best, an average student.
She is the daughter of an unskilled  construction site laborer who struggles to keep food on the family table. Like most of her classmates, Aarthy has struggled with challenges and hardships. Yet, since joining her local HoPE Learning Center, she has ranked among the top academic performers in her class. 
She told us that her recent achievements were mainly inspired by friends, teachers and the role models that she has met at the HoPE Learning Center.
She also lists the former Chief Minister of Tamil Nadu, Mr. Kamarajar, who has been called the "Black Gandhi," as a major influence in her life. She and other students learned about him and how he brought free education and food to young students during a speaking competition held on his birthday.
Thanks to all of these motivating individuals, Aarthy now strives to become a civil engineer so she can construct buildings high enough that she can climb up to see the entire world.
It doesn't take much to help a special child like Aarthy reach new heights. Right now, only $9 a month covers the costs of HoPE Center sponsorship, tutoring, lessons, materials and daily mini meals. For only $300 a month, you can sponsor an entire HoPE Learning Center, including Aarthy's Center, Sakkudi!