"And the day came when the risk to remain tight in a bud was more painful than the risk it took to blossom." – Anais Nin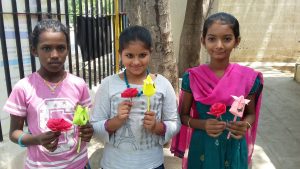 At HoPE Learning Centers, children from difficult backgrounds and circumstances are enabled to step up into the light and blossom. They are challenged in many ways almost every day. Here is a letter from one of our coordinators to the sponsor of a HoPE Learning Center. It was written and sent last May and now seems like the perfect way to showcase stories of success during this season.
"HoPE students made drastic changes in their lives after joining our HoPE Center. The training of our HoPE children throughout this year was amazing. Our children showed determination and team work staying after school hours in the HoPE center studying together with joy and fun. Our children learned to interact with other children who do not have the same background as them. During this one year tenure they learned to read and write English, how to respect elders, and enjoyed the monthly activity program when hosted.  The children also enjoyed doing good deeds and helping the poor elderly in their village by giving away food packets during Guru Poornima program forwarded by our Tripura team. HoPE Centers believe these kinds of activities inspire the children and keep them observant as education is the ticket out of poverty. We are putting forth so much effort to see that the children shine like stars in the sky.
The teachers treat the HoPE students like their own children and whatever knowledge they have is passed on to them.  Change might be a slow process, but the mentors see it happen constantly and are able to see such a change in the children they work with. Sharing of knowledge and experience with the children is very satisfying to the teachers and they are honored to help the children. Teachers recognize immense talents in the students and there are real life examples of transformation in them. The children are now more confident, sincere, and disciplined. In years to come the children would realize their true potential and will contribute to society in the best way.
Your support creates learning and mentoring opportunities for individuals in the HoPE Center. As a Tripura Foundation partner, you make a real difference in the lives of these children in need. We hope that you will continue to support our efforts.  On behalf of those we serve together, thank you for your generosity."
If you already sponsor a child or an entire HoPE Learning Center, thank you for all that you do. If you have the ability to help even one child to blossom for just $9 per month, please be like the sun and help them to open up and shine for all the world to see!